TV Replacement
Submitted by

wislander

on Mon, 04/19/2010 - 21:16
A few weeks ago I decided it was time to upgrade my living room TV because my old one was, well it was umm, well because I wanted to, stop looking at me that way; But this entry has noting to do with my new TV, this post is all about what I did with my old one. Since there really wasn't anything wrong with the old TV, it was relocated to my basement fitness area. To be more specific, it ended up on my fitness area wall.
Of course if you have a TV in the fitness area, you need to be able to play movies, and listen to music, and watch TV and everything else that goes with it. So of course you need a surround sound receiver, a DVD player, and room to expand. But there just wasn't any room for the equipment to be in fitness area. Fortunately my network closet is on the other side of the wall, so I could easily just put the equipment in there if I added a couple of shelves. But, of course I would need a way to work the equipment in the network closet without going in there every time I need to change something.
Enter the Logitech IR Extender system. It's affordable, small, and made by the company that makes some of the best universal remotes on the market. But normally you need to set the receiver for the system on a table or a flat service in the same room as the TV. Something I am trying to stay away from. So I needed a way to get the signal from the remote to the extender receiver, which I plan to have in the next room. It would be great if they made something like that you could just walk into a store and buy. They do not. But what I did have was creative thinking and some parts laying around that I was willing put together.
First we start with a wall outlet cover you can find almost anywhere, and a cheap 3" lens filter that you can find at many camera shops, normally in the clearance area.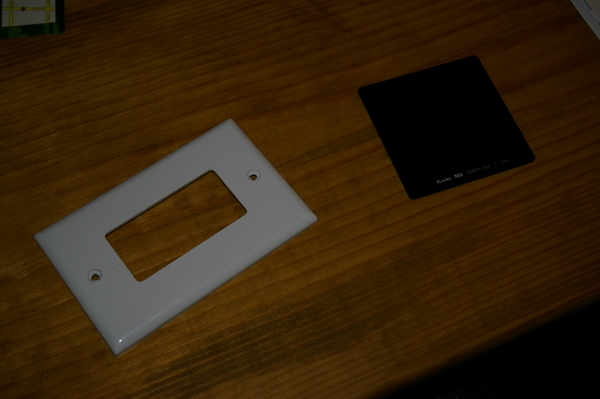 You may need to trim the filter down a little with a Dremel Tool to make it fit, and a little adhesive.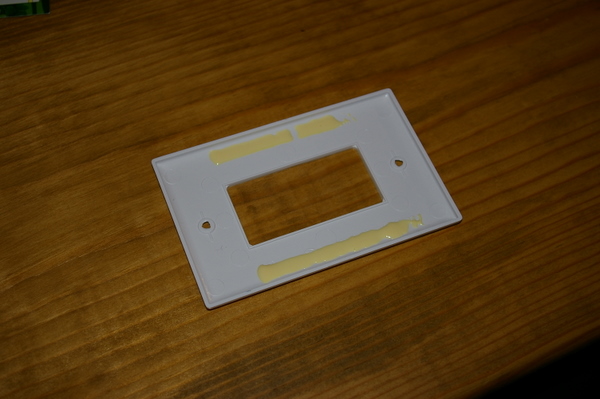 Put the filter in place, make sure you line it up correctly, and allow it to dry.
When all is said and done you will end up with a professional looking IR transparent wall-plate that really should be available in stores.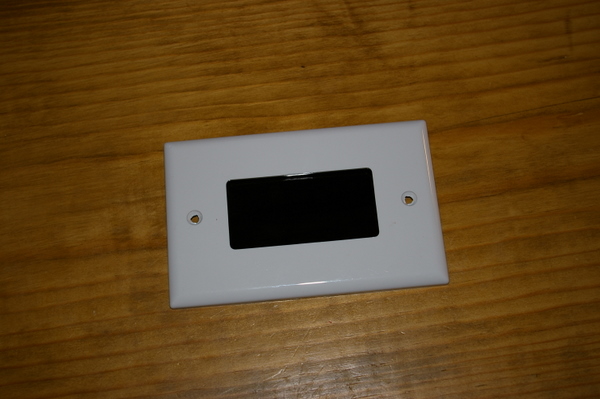 Then all you need to do is cut a hole in the wall below the TV and insert a fast install drywall box that you can pick up at any home improvement store, Wal-mart or neighborhood hardware store.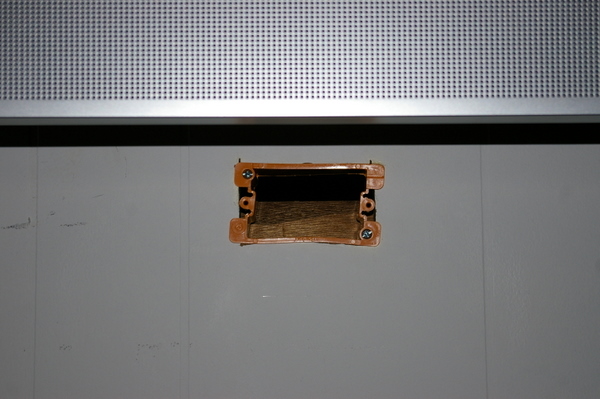 Then mount your custom made IR faceplate.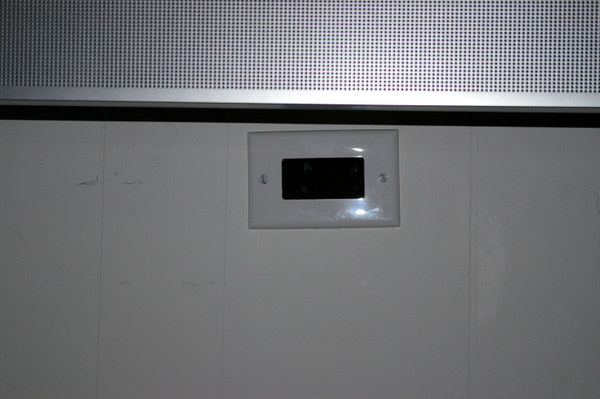 Then set up the rest of your equipment, like speakers and all of the speaker cables.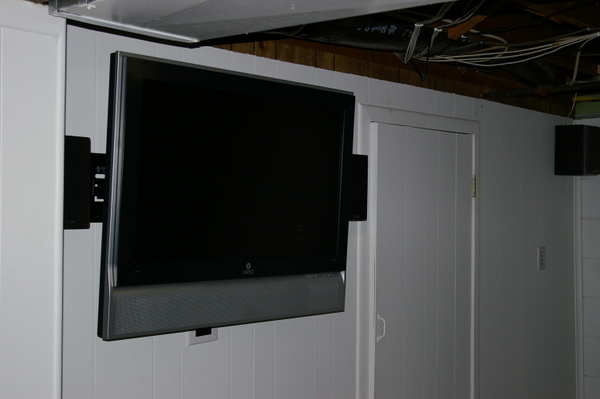 I ended up installing six of them because that was the number of speakers I had laying around. Once the speakers were in place I installed all of the electronics in the closet and tested it out manually.
Of course I would love to say "and then I was done," but my IR Extender didn't arrive on Friday like it was supposed to. So I had to wrap things up on Sunday and wait until Monday for the final hardware to arrive. When I got home from work on Monday it was waiting for me. It only took about 5 minutes to set it up. The receiver module fit perfectly in my custom wall plate box almost like it was made for the item.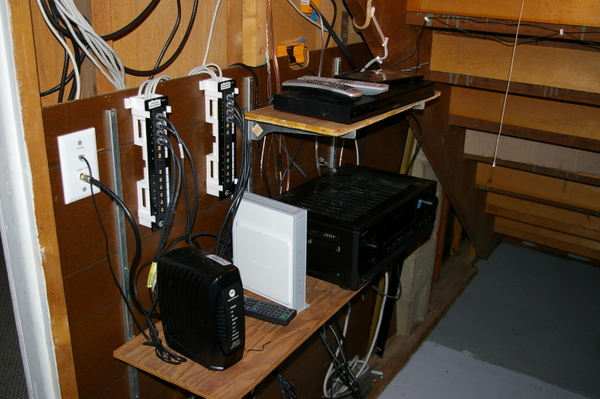 The extender's broadcasting module Logitech calls a "Blaster" was mounted on the wall on the other side of the closet facing the stereo equipment, and with a couple of coax cable clips the wires are out of the way and safe from damage.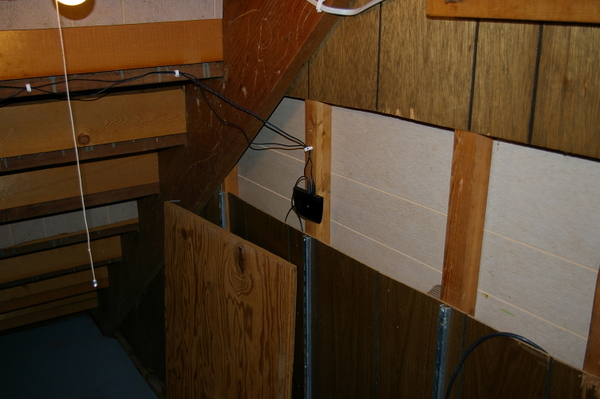 The closet when all is said and done looks like this.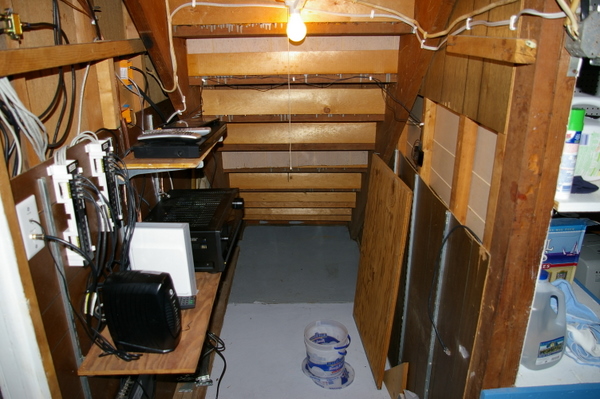 Without any tweaking, adjusting, or special programing everything works via a universal remote in the other room as long as I point it toward the TV.
Next Project: Replacing my fusebox and outlet for my dryer in the laundry room.