Packer's Table
Submitted by

wislander

on Sun, 08/27/2017 - 19:10
Sometimes when you look around at your scrap pile you find a few items that are leftover from old pieces of items you have torn apart or are the only good parts left from items that were too far gone to salvage. Sometimes with a little creative vision, something good can come from this.
In this case I had remnants of two different tables that once you add a little scrap wood to them they were begging to be something bigger and better than what they were. All of the parts were in good shape, but made out of cheap wood stock and not worth refinishing. So my first stage of this project was to rough them up with sand paper, and add some primer.
From there I added a few pieces of scrap wood and some bolts and we have a functional table. As you can see above, the test fit of the project is a very functional table, but very boring. Since boring is not very fun, I figured it was worth my time to do something more with it.
Since my plan was to give this table to my girlfriend and her son, who are both Green Bay Packer's fans. I decided to do something unique with the table. A quick search on-line and you can find all of the NFL paint colors on sale at most home improvement stores, and since I was not in need of a lot of paint, I ordered a sample of Packer Green and Packer Gold and when they showed up we were off to the races.
I was starting to work up a stencil to paint the Green Bay logo on the table top and I thought to myself, they has to be an easier and better way. A quick trip over to Amazon and I found a 22" vinyl wall logo which was the prefect size for the 32" table top. After centering and applying it to the table top, we had a pretty good design going, and a lot easier than manually creating the logo.
Since this was turning out pretty nice looking, I decided it would make sense to apply a gaze coat finish to both lock down and project the vinyl decal, and to give the painted top a durable finish. After the first pour I could see I was right on track.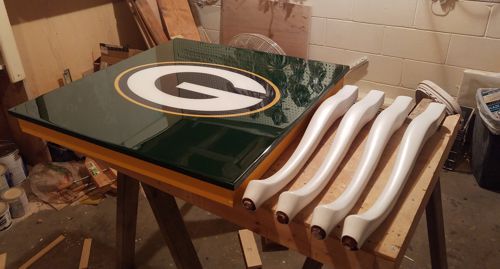 I added an additional layer of finish on the table top and a coat of polyurethane on the rest of the table and the table legs. All that was left at that point was to deliver the table and assemble it for it's final placement.