Scrap Wood Tray
Submitted by

wislander

on Sun, 08/27/2017 - 22:30
Sometimes a project is a result of an idle mind, sometimes it's to see if I can stretch a bunch of wood scraps. In the case of this tray it was to see what I could do with some leftover maple, some oak dowels, and some 2" pine stock.
So it was back to the glue and wood clamps, and a little different pattern than I have used in past projects, while still planning to use the end grain.
After slicing the glued stock into thin pieces, all that's left is to glue them all back together again. In this case I had limited quantities of the stock, I cut it much thinner than I usually do
The next stage in the process was to create the final rough shape of the final tray design. Very rough at this stage, but easy to see where things are headed.
Then it was just a matter of sanding and squaring up the design. This was also the last of the spare maple stock I had laying around.
At this stage I decided it was a good idea to add a little bit of uniqueness to the tray design, by adding some round oak dowels to break-up the squareness of the pattern and the design. I also wanted to create a pattern with the dowels instead of just randomly drilling into the top and inserting them all over.
The it came time to add a frame to the tray. And to carry over a bit of the design element from the top over to the frame I also added some oak dowels, both as a design element, and to hide the screws holding the frame and the tray together.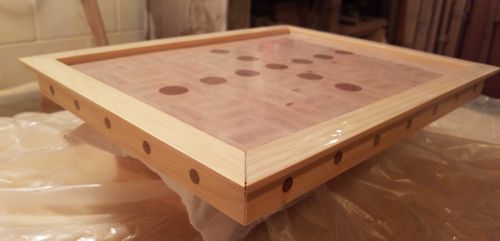 After the glue dried, it was time to add several coats of polyurethane to finish out the design. Not too bad for a bunch of scrap pieces and a little bit of poly. Ended up taking this guy into work and it is sitting on my conference table in my office.
Save